Consultation
During your consultation with Dr. Sharma, you will have the opportunity to go through the entire procedure from start to finish. This is a great opportunity to ask any questions you may have about the procedure and post-care. After your consultation you will have a team members contact information to reach out to with any questions before your surgery day. We offer a few different modalities to assist patients who are anxious about their procedure or surgery in general.
Pre-op Appointment
Two-weeks prior to your procedure we will see you at the clinic for your pre-operation appointment. This will be your chance to discuss the treatment area with Dr. Sharma and go over any last questions prior to surgery. This will also be your last chance to change the amount of grafts for your surgery. Some patients choose to increase the amount of grafts to help give greater coverage and/or density.
We will then take your vitals and give you a blood work requisition. You will be required to have blood work completed to confirm you are suitable for surgery. Dr. Sharma doesn't like surprises in surgery and this helps us to ensure your safety throughout the procedure.
Starting your day
Our hair transplant surgery is completed using a local anaesthetic, this means that patients remain conscious throughout the day. Using multiple injections we anaesthetize the surgery area (most often the scalp) completely before excising or placing the grafts. Before the injection is administered we use a topical numbing cream to ease the initial pinch of the needle. The first portion of the surgery is spent laying on your stomach. Most patients end up falling asleep a few times throughout this section as it can be quite monotonous. This part of the day is called "harvesting" as we are excising and collecting the grafts from the donor area. These will then be placed into a preserving solution called HypoThermosol®.
Excision
The amount of time required for the excision period depends on the number of grafts required for surgery. Small sections of 800 or 1,000 grafts may only take 2-3 hours. Large sections reaching the 3,000+ mark can often take over 4 hours. At Sharma Skin & Hair Surgery we understand that this is not a comfortable position to remain in for long periods of time. Patients are able to take occasional breaks and stretch but limiting these interruptions will speed up your surgery.
Lunch Break
Despite laying prone for the majority of the morning patients often work up quite an appetite. Lunch is provided by the clinic with a large variety of local restaurants to select from. We insist that each patient orders an appetizer, main course, and dessert. It's a great time to relax and enjoy a delicious meal before the second half of the day.
Incisions
Dr. Sharma uses multiple different tools to make the incisions which will then be the placement area for each individual graft. This is an integral part of the procedure and the placement location and angle will determine how and where the hair will grow. We use an injected anaesthetic to eliminate any pain during this portion of the procedure. It is important to allow Dr. Sharma and his team to focus as they are counting each incision to ensure we have enough to match the final graft count.
Check out our page on incisions here.
Placement
Graft placement is a painless but tedious part of your day at our clinic. Our nurses will be placing the grafts one-by-one into the incisions made by Dr. Sharma. Before this happens, we carefully select and clean the excised grafts to ensure we are only placing healthy and intact follicles. During this part of the procedure you are able to watch television or listen to music to help pass the time.
Clean up & Education
Once the placement is complete you are nearly done. Doctor Sharma assesses the graft placement, checks the donor site, and inspects your vitals. Once we have the all-clear, we begin the cleanup and securely bandage the surgery site. During this phase, we will also go over the post-care instructions with you in-depth. This includes teaching you about graft care, sanitization, and how to properly wash your new hair. You will then be supplied with a care package that includes all of the post-care materials you may need.
Note* patients are required to return the next day for a check-up and bandage change. This takes roughly 45 minutes.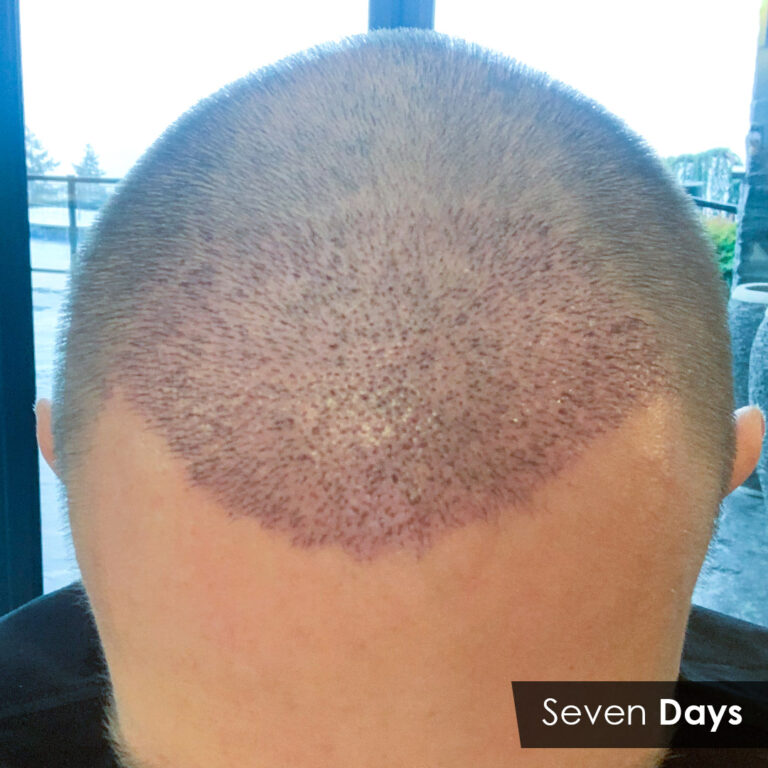 Following your surgery
With the transplanted hair follicles placed in position, you can now see the new hairline. At this point, the scalp needs time to heal. You will see scabbing in two locations on the scalp: on the donor site (where the hair follicles were harvested), and on the placement site. These scabs are small, so they heal quickly.
You might experience local swelling which usually goes away in a few days.
The scalp may have some minor soreness or tenderness. Over-the-counter pain medication can be used to mitigate this. During the first week of recovery, it is important to follow Dr. Sharma's instructions. For example, the grafts shouldn't be touched, and you will need to follow a specific showering and hair washing protocol during the healing process.
Hair Transplant Recovery
Talk to a hair transplant expert
Don't just accept your hair loss.
Talk to us about your options.
If you are considering options for hair restoration surgery, our experienced team is just a phone call away. Contact our Edmonton hair transplant clinic at your convenience to schedule a consultation with the leading hair loss surgeon in the area: Dr. Sharma.