Why Eyebrow Hair Transplants?
The cause of thinning eyebrow hair can include: facial scars due to burns or injured skin, alopecia, over-plucking, and aging. These problems can be corrected by using donor hair to fill in the empty spaces.
Whether you have no eyebrow hair or your eyebrows are thinning, a hair transplant procedure can be used to restore the overall appearance of the eyebrow. Some patients choose services to repair damaged areas of the eyebrows. Other people choose to have full transplant services to design a natural appearance by restoring missing eyebrows.
The F.U.E. Window Technique
Making your recovery time as subtle as possible
The window technique allows those with long hair to hide the donor area completely days following surgery.
This technique can be used for F.U.E. or F.U.T. transplants making it a fantastic solution for women who don't wish to shave their heads for surgery. The area shown in this video was used to collect a relatively small number of grafts that were used in an eyebrow Transplant. Stay tuned for more on that procedure over the coming weeks.
What to Expect
This procedure works similar to a scalp hair transplant. Donor hair is harvest from the back of the scalp, then placed strategically to create a full brow line. The donor hair is placed in the eyebrow area in single, follicular units, giving you a natural appearance. A high-magnification microscope and needle are used, with no need for stitches or a scalpel in the eyebrow area.
Dr. Sharma offers the perfect combination of medical science and artistry to create eyebrows that are designed to fit the unique shape of your facial features. The placement of each follicle is angled and positioned to match the natural eyebrow hairs. The goal is that the transplanted hairs will look the same as natural eyebrow growth.
Within four to six months, the hair growth will be noticeable. The full results of an eyebrow transplant treatment will be enjoyed about ten months after the surgery is complete. These transplants will continue growing indefinitely, which means that the eyebrows need to be trimmed occasionally.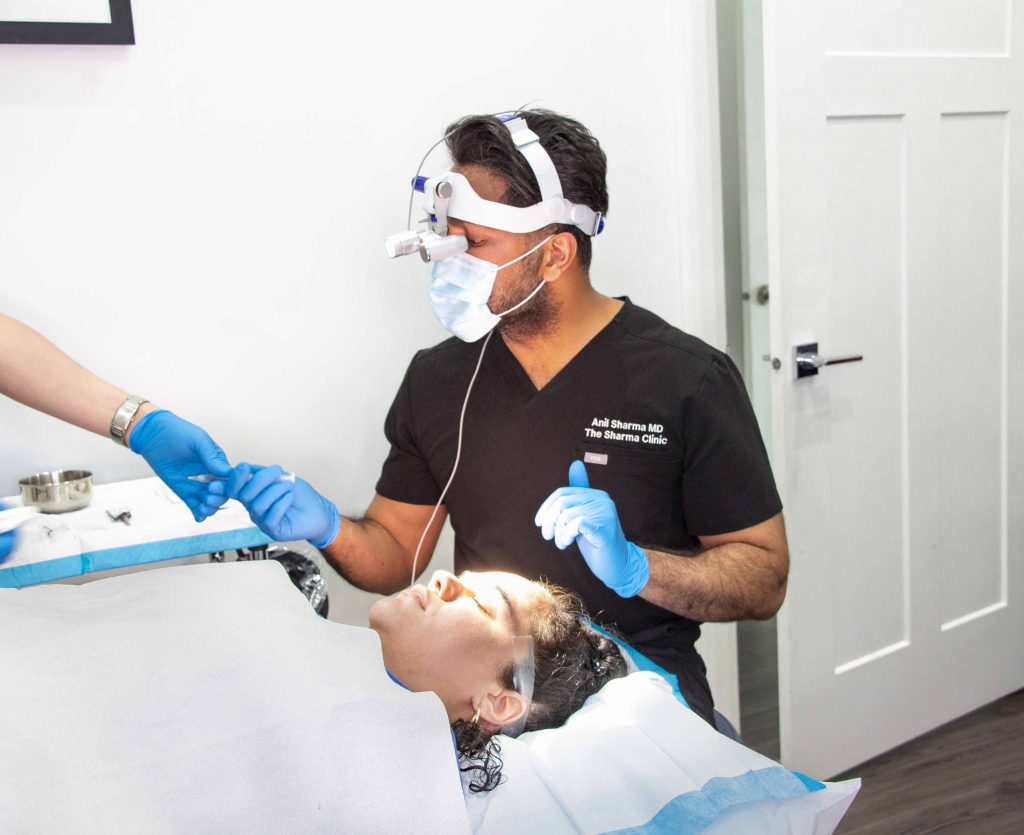 How Much is an Eyebrow Hair Transplant?
While most hair transplant surgery is priced 'per graft' the eyebrow hair transplant follows a different metric. Often we are only relocating 300-700 grafts between both eyebrows, unfortunately due to the area the surgery is significantly more difficult then one performed at the scalp. Each graft must be placed at varied depths and angles, slowing down surgery considerably. For this reason, despite the smaller procedure size, we often require the surgical suite and full surgical team for the entire day. Eyebrow hair transplants typically cost around $5,000.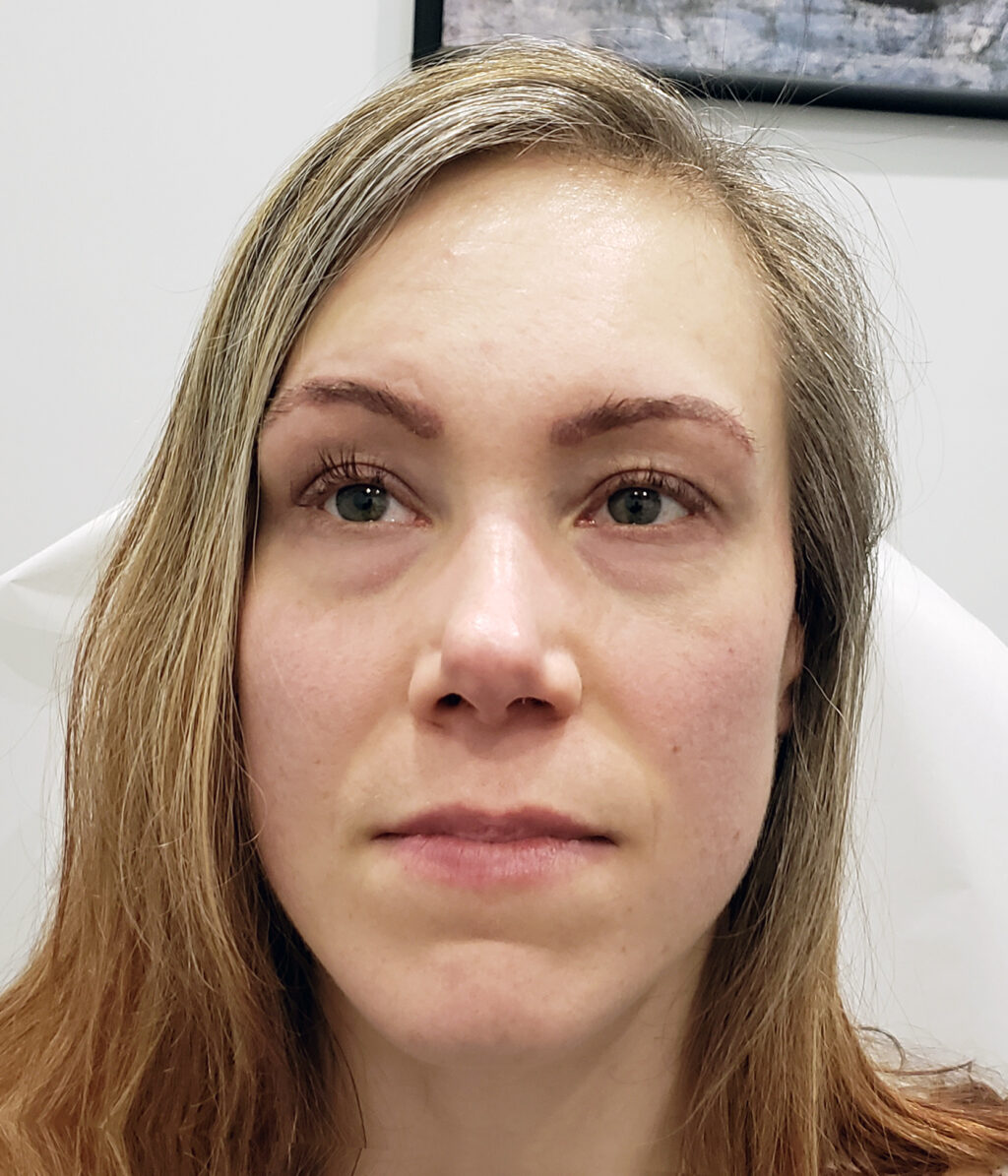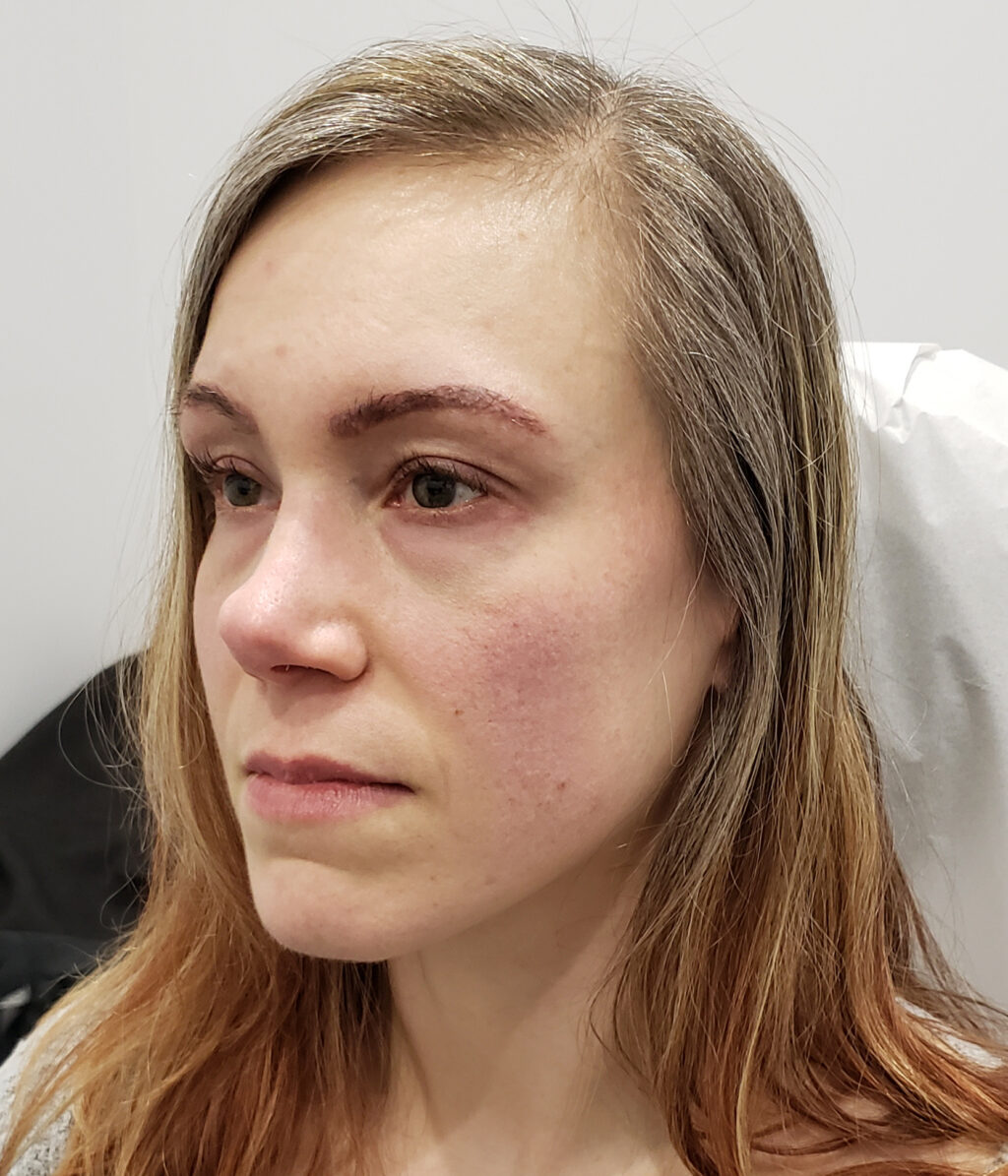 Eyebrow Transplant Recovery time
The recovery time for your eyebrow transplant is relatively fast. A post-care routine involves spraying of Hypothermosol solution to the transplant site to keep the grafts hydrated and clean. This can be a bit tedious, but it is only required for approximately 3-5 days. You will develop some scabbing around the eyebrows for the first few days. It is imperative to not pick at these. Once healed, they can be worked away with gentle scrubbing leaving you with redness for a few weeks.
---
Book now
Talk to a Hair Transplant Expert in Edmonton, Alberta
If you are considering options for hair restoration, our experienced team is just a phone call away. We provide hair transplants for Edmonton residents, as well as those choosing our Edmonton clinic as their hair transplant surgery destination.