Give a good first impression
Our eyes are primary source of communication and are the first point of contact when we meet someone and engage with them. When we are tired, frustrated, or happy, it is our eyes that people first acknowledge; those puffy bags under our eyes make it obvious.
The under-eye filler treatment quickly restores the vitality to your appearance by giving the skin under your eyes a boost in collagen production, which helps to maintain skin elasticity. Under-eye fillers smooth out and hydrate the under-eye area, enhancing the skin tone, texture, and vibrancy in this critical area.
The result? People will think you've shaved years off of your age.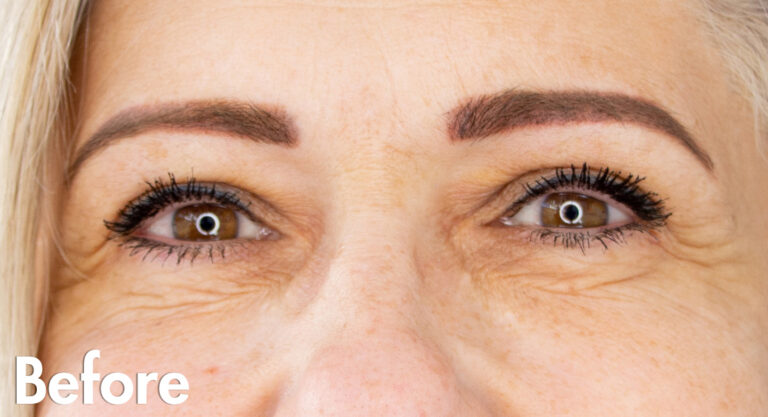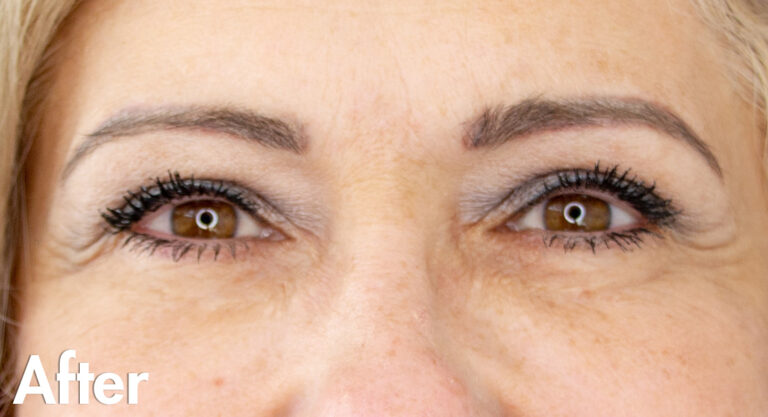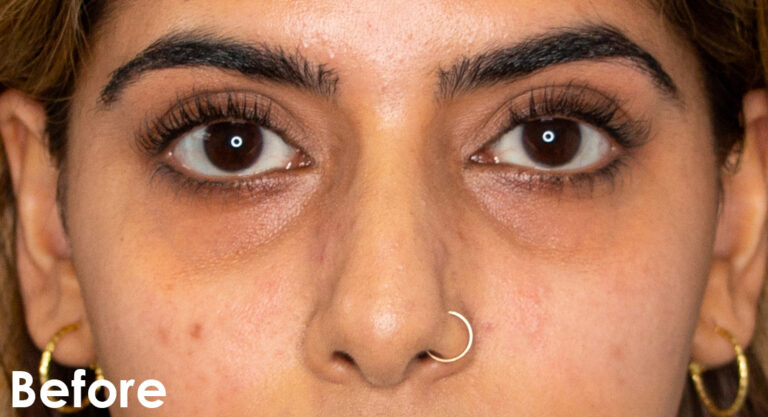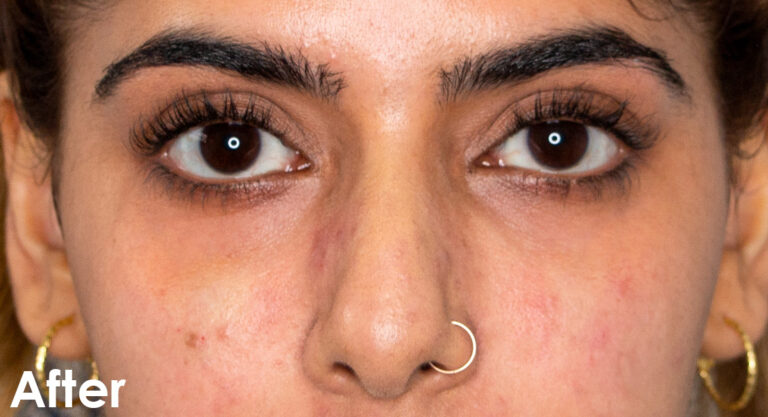 Benefits of Under Eye Filler
Restore vitality to your appearance
In our youth, our skin has incredibly regenerative qualities. It's especially great at producing a chemical called hyaluronic acid. The compound allows our skin to retain moisture and volume, giving our skin a smooth look and feel. However, as we age, our bodies produce less and less hyaluronic acid. Our skin begins to lose volume, shape, and can't hold as much moisture as before.
Under-eye filler solves this problem by replenishing hyaluronic acid under your eyes with a high molecular density hyaluronic gel. This density of molecules makes this gel more effective at creating and sustaining new levels of moisture in the papillary dermis.
As this hydration increases, the skin gains volume in moisture, and then retains it. This in turn creates an evening-out effect in the skin, bringing back its youthful elasticity and "snap".
Prevention vs. Cure
Ageing is inevitable and unavoidable, but it isn't irreversible. Dr Sharma's aesthetic eye allows him to carefully and strategically place filler to turn back the hands of time.
With a single treatment, you'll look immediately younger. Best of all, you'll prevent the onset of wrinkles, preventing them from forming for as much as two years. With so much of our time and money spent on finding cures to ageing, isn't it time that we invested in preventing it from happening in the first place?
Why Under-Eye Filler is Underrated
Cosmetic surgery can be costly, and while some results are immediately visible, others take time to show. Under-eye filler gives you control of the one place where you can direct someone's attention – your eyes.
Under-eye filler is cost-effect and requires less time to heal. This minimized interference in your day-to-day living, and it allows you to get on with your life while gaining the benefits of your rejuvenated looks.
Regained Confidence
Does the thought of dark circles under your eyes stop you from making eye contact? Does the knowledge of your wrinkles stop you from whole-hearted laughing when you're in the company of friends and family?
As we age, we often become self-conscious of our appearance. This stops us from letting go and living our lives to the fullest. Our self-esteem often takes a knock, throwing us into a spin as we come to terms with time's tyranny.
Under-eye filler treatment puts these fears to rest, allowing you to boldly and confidently embrace life all around you. Connecting with the people around you, sharing laughter and smiling becomes uninhibited. Freedom to be you is yet another reason why so many people are appreciative of the treatment.
Eliminating Tired Eyes
While constantly wearing masks it has been more important then ever to maintain the eyes.
The treatment took a little over 30 minutes to complete and her under-eye area has been smoothed out giving a 'well-rested' appearance. This procedure used two syringes of dermal filler in total.
Get more information
Knowledge Centre
Fat grafting vs. dermal fillers: what works best to restore facial volume?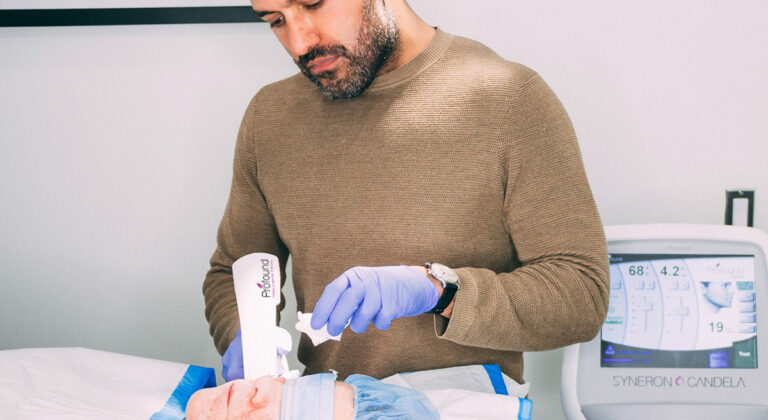 Nothing contributes to a youthful appearance the way a radiant, healthy face does. Loss of facial volume, elasticity, and moisture creates a tired, aged look….
Read article on Fat grafting vs. dermal fillers: what works best to restore facial volume?
Eye Filler FAQ
We've compiled a list of some of the most common questions asked during our initial consultation
Yes. This is always an option but Dr. Sharma's philosophy is to avoid overfilling. Instead, he chooses to make small adjustments that can be topped up in the future.
The procedure takes about 15-30 minutes to complete, depending on the extent of the treatment.
It's important to know that under-eye filler sometimes requires more than one syringe to be 100% effective. It is not a procedure that should be taken lightly and rushed because when a doctor performs the procedure well the results are astonishing and long-lasting. Dr Sharma understands that when you commit to the process you will reap the rewards each time you admire yourself in the mirror.
One trick to help get the longest-lasting results is to avoid sleeping on your face. Limiting pressure and movement to the injection sites will help the filler to stay in place for a longer amount of time.
Expect the slight bruising beneath your eyes to diminish and fade within 48 hours. By one week, you'll look noticeably younger, and you'll experience the elasticity, smoothness, and volume return to the region around your eyes.
Under-eye filler treatment lasts six months to as much as a year and a half. There are many factors that determine the longevity of the procedure. These include exposure to sun, diet, exercise, etc. Naturally-occurring enzymes in the human body break down hyaluronic acid over time.
When the procedure is done correctly, by a trained professional with years of experience, there are little to know complications. However, it's important to note that you should not consume alcohol twenty-four hours prior to the treatment, as this could cause greater bruising beneath the eyes.
We sometimes see patients who have had received filler by another injector and simply do not like how it looks. It is possible to completely dissolve the fillers if you don't like the result. To do this, we will inject a small amount of an enzyme called hyaluronidase into the filler area. The enzyme will dissolve the filler in approximately five minutes.
The cost is calculated 'per syringe used' the cost of one syringe of filler is $850 with half a syringe costing $425. For the under-eye area each patient will require a different amount. On average it's between 1 and 2 full syringes.
Yes. You will see the results almost instantly. You may have light bruising at first but this fades within 48 hours.
Yes. This is always an option but Dr. Sharma's philosophy is to avoid overfilling. Instead, he chooses to make small adjustments that can be topped up in the future.
Book now
Talk to an Under-Eye Filler Expert in Edmonton, Alberta
If you are considering options for under-eye filler, our experienced team is just a phone call away. We provide under-eye filler for Edmonton residents, as well as those choosing our Edmonton clinic as their under-eye filler destination.