Hair Transplant Recovery
What You Can Expect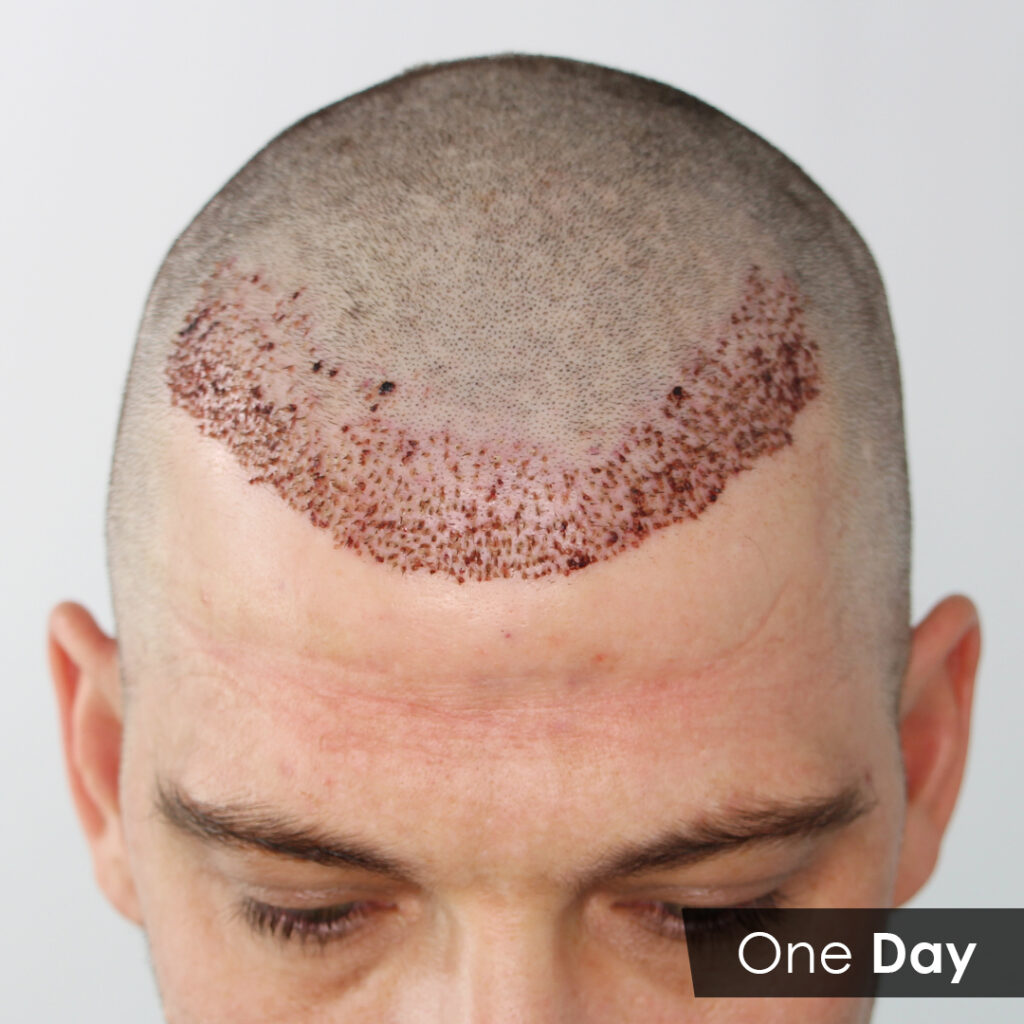 1 Day Post Procedure
Directly after surgery the grafts will be extremely sensitive. It takes roughly five days for the follicles to attach to a blood vessel under the skin which supplies them with food, oxygen, and energy. Until this critical phase is complete you will be required to spray the grafts with the a custom HypoThermosol® solution. All other medical supplies are provided to you at no extra cost.
The post-care protocol will fragment your sleep leaving you fatigued throughout the first few days of recovery. Being diligent with our post-surgery instructions will help to give you the best possible result.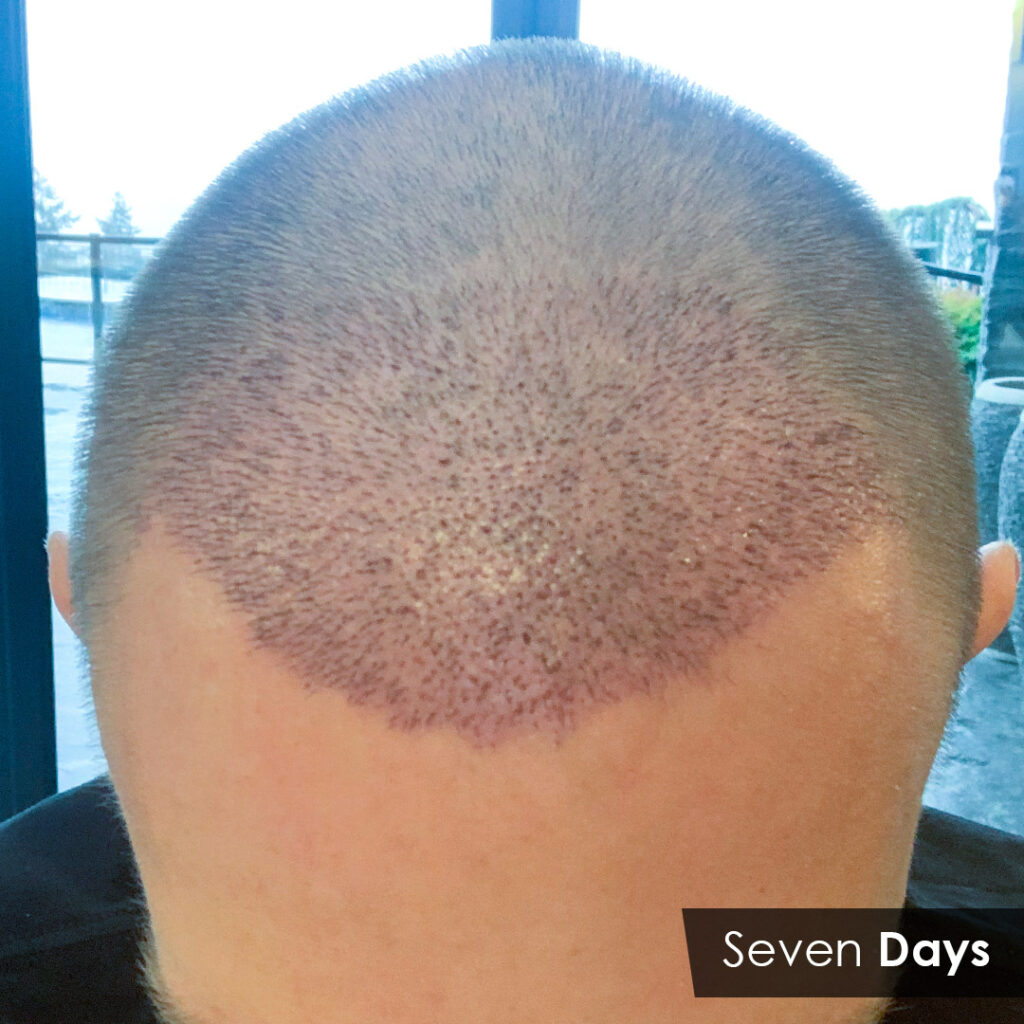 2 – 7 Days Post Procedure
With the transplanted hair follicles placed in position, you can now see the new hairline. At this point, the scalp needs time to heal. You will see scabbing in two locations on the scalp: on the donor site (where the hair follicles were harvested), and on the placement site. These scabs are small, so they heal quickly.
You might experience local swelling which usually goes away in a few days.
The scalp may have some minor soreness or tenderness. Over-the-counter pain medication can be used if desired. During the first week of recovery, it is important to follow Dr. Sharma's instructions. For example, the grafts shouldn't be touched, and you will need to follow a specific showering and hair washing protocol during the healing process.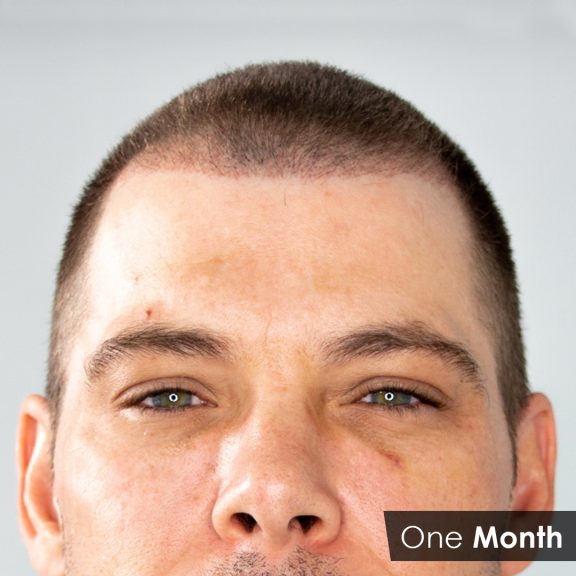 1 Month Post Procedure
A few weeks after the transplant surgery, you will see that the transplanted hairs are starting to fall out. Don't worry! This process is normal. When hair follicles are moved, hair growth pauses for a short time while the follicle adjusts to the new location.
It is a natural part of the growth cycle to have old hair falling out. With time, you will see that new hairs will regrow at the graft site. It takes time for the new hairline to look full and normal.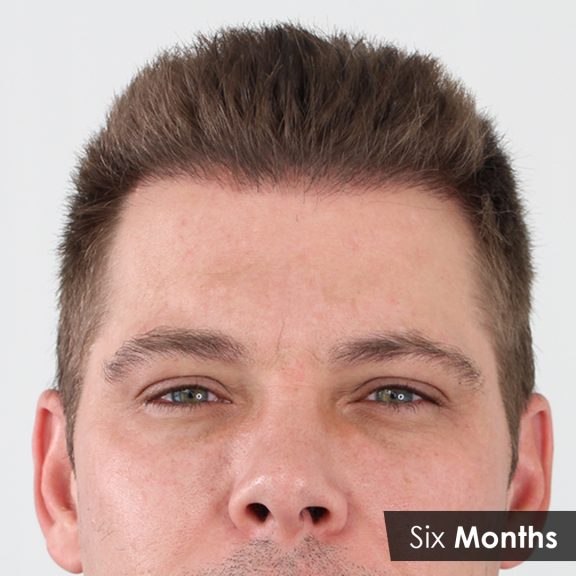 6 Months Post Procedure
At the 6-month point, the hairs will be growing well and you will see the density filling in. The hair quality will be improved and you will see that hair growth is steady.
Even though you can see significant progress, know that these aren't the final results of your hair transplant procedure. The hair will continue growing with time.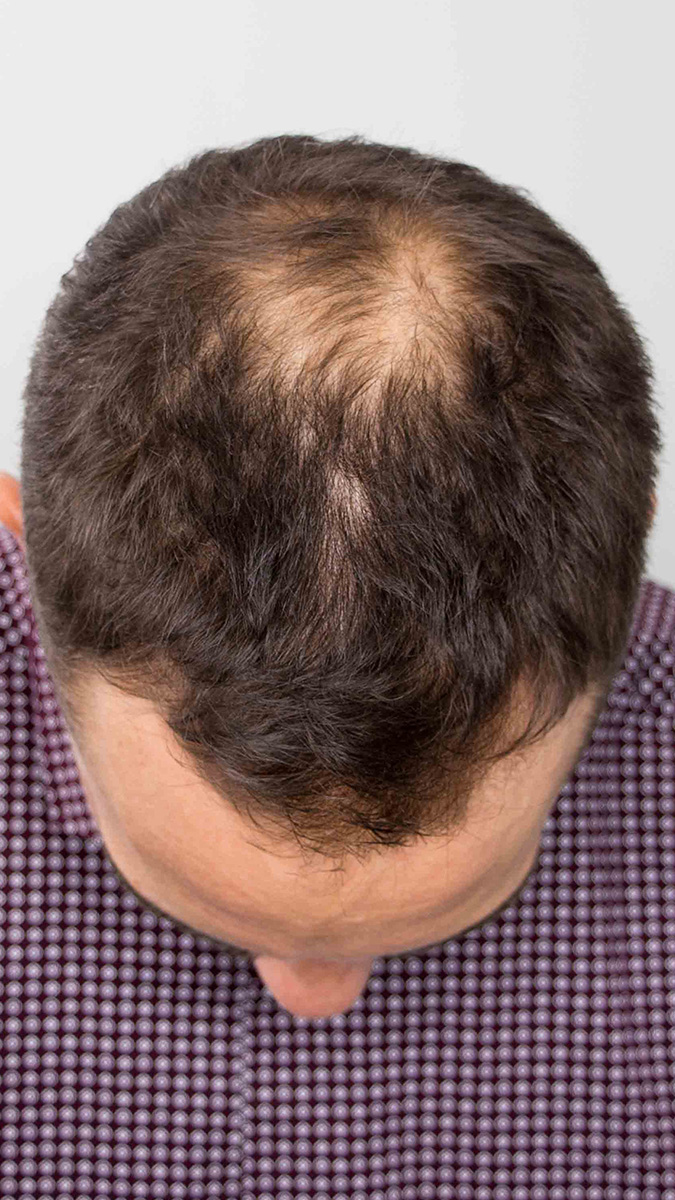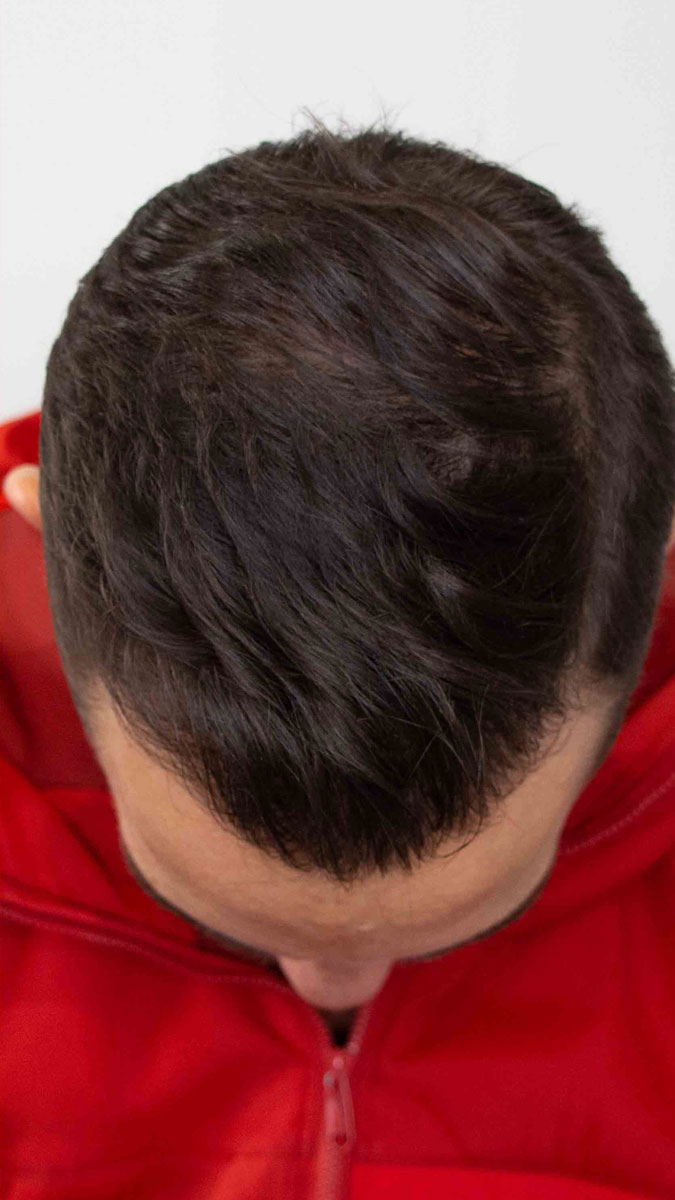 1 Year Post Procedure
Near full hair density is achieved about a year after the hair transplant procedure. Now, the hair growth is more prominent and you are enjoying an increased rate of growth.
You will continue to see increasing density with the current hairline as well as added density in the appearance of the hair.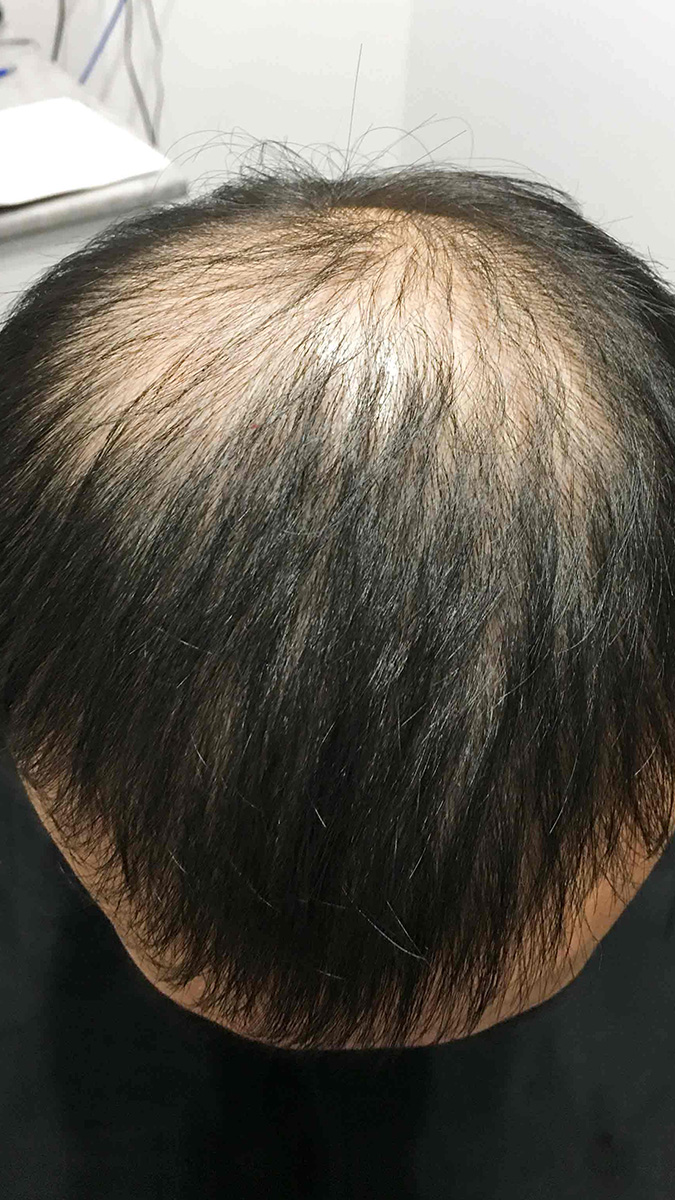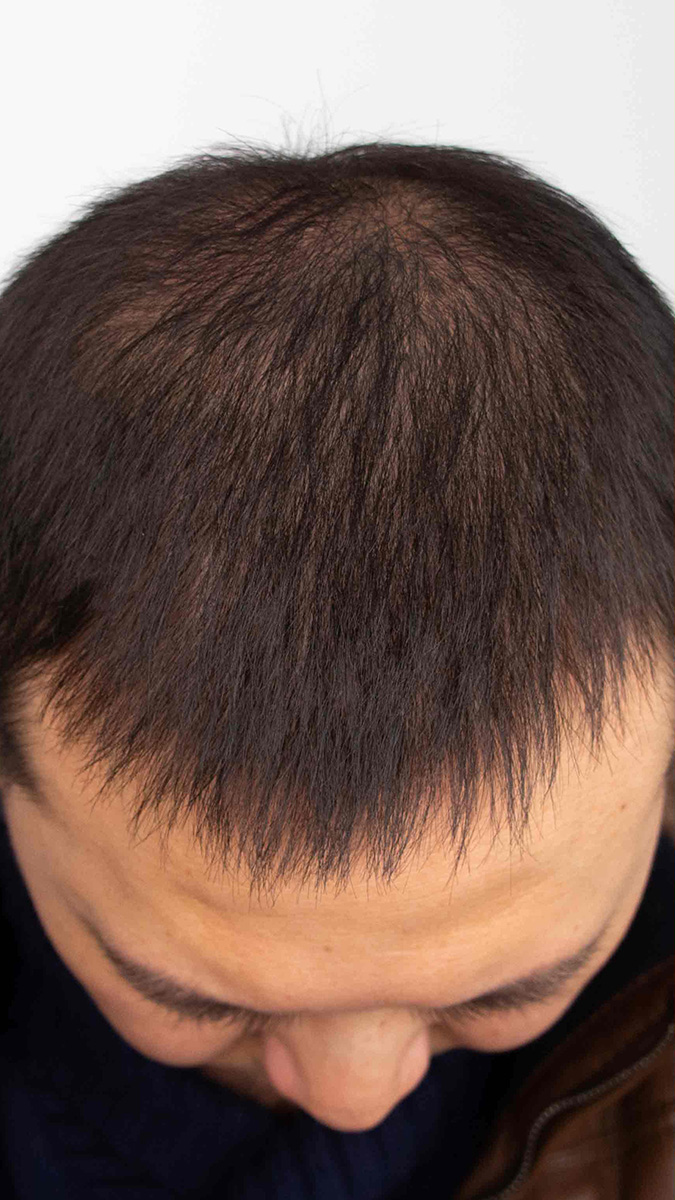 18 Months Post Procedure
It can take up to 18 months after a hair transplant procedure for you to enjoy the full benefits of this treatment. You have the freedom to wear your hairstyle of choice, and no one will be able to see that you have had a hair transplant. At this point, the transplanted hairs are well-established and growing normally. The results of a hair transplant are permanent.
How to Disguise Your Hair Transplant
Female F.U.E. Concealment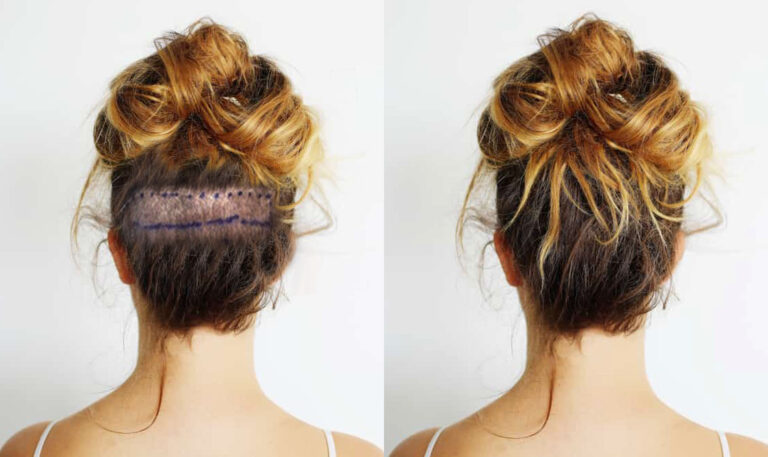 Long hair can assist to hide the donor site. Some women tie their hair into a bun to further conceal the area.
Male F.U.E. Concealment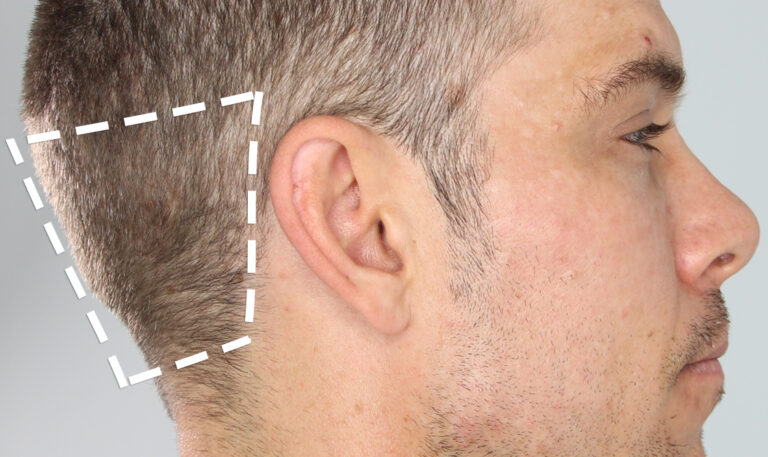 Even with short hair you can disguise the donor site. This patient is one-month post F.U.E. transplant of almost 2,000 grafts.
the following 10 days
How long is the recovery?
One of the most common questions we hear about the hair transplant procedure is, "How long is the recovery?" Understandably patients want to know when they can go back to work after their surgery. Interestingly, this answer relies partly on you – the patient. At Sharma Skin & Hair Surgery we suggest a fairly strict post-care routine that not only helps to reduce downtime – but potentially improves your final result.
Read more about the days following your surgery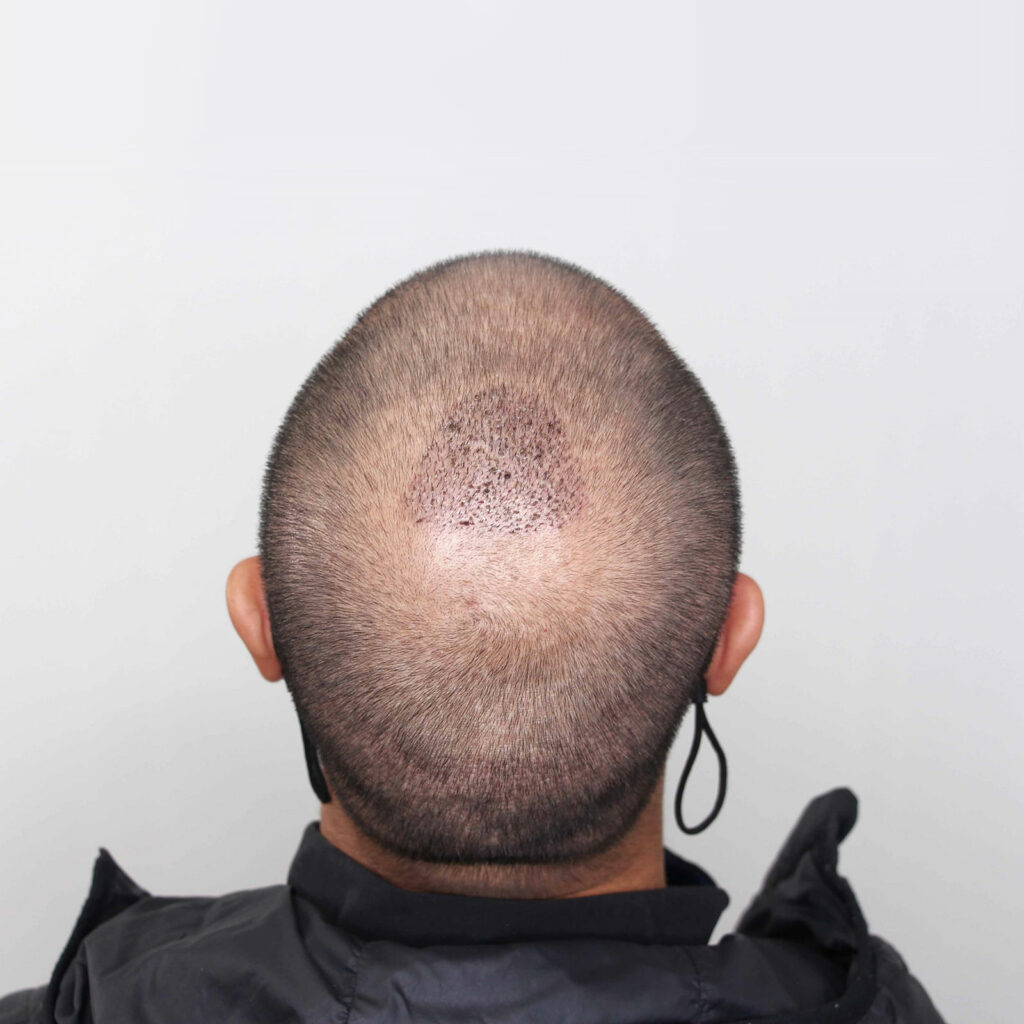 After Your Hair Transplant
Here at the Sharma Clinic, we encourage each patient to do thorough and detailed research about the procedure before starting their Hair Restoration journey. There are multiple things to consider before and after the procedure and we love being a source of knowledge for anyone looking to learn a little more about the process.
Inquiries like, "Can I wear a hat after my hair transplant" & "What will I look like after my hair transplant?" are great questions and we enjoy being able to share our experiences, photos and videos with you to give our patients the answers they seek.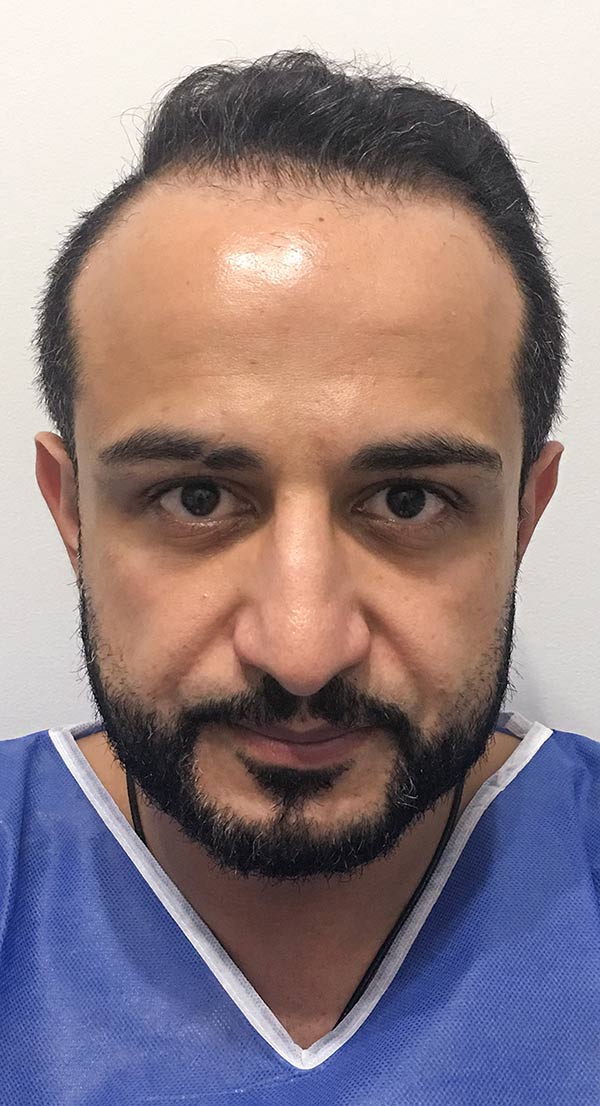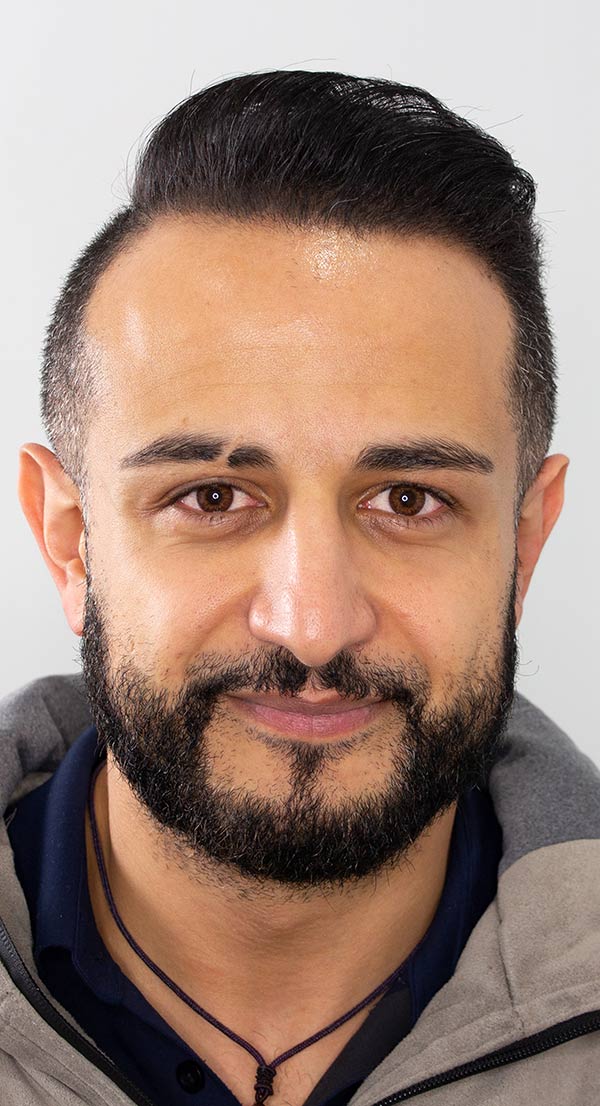 Sami's Hair – 1 Year Later
Sami is a well dressed and fit young man who wanted to have his hairline match his stylish appearance. We made sure to place all 2,000+ grafts naturally along his hairline increasing the appearance of density while also bringing it forward. Instead of creating a straight and uniform line across the front of his head we followed his existing hairstyle which compliments his masculine facial features.
Sami is currently only one-year post hair transplant and has another 6 months of growth to look forward to.
Hear Sami's Story
Book now
Talk to a Hair Transplant Expert in Edmonton, Alberta
If you are considering options for hair restoration, our experienced team is just a phone call away. We provide hair transplants for Edmonton residents, as well as those choosing our Edmonton clinic as their hair transplant surgery destination.