What is Laser Hair Removal?
For many years, unwanted body hair was a significant nuisance and possibly even a source of significant embarrassment for both men and women. When laser hair removal was first introduced, it was time consuming, uncomfortable, and not always effective.
Thanks to advances in laser hair removal treatment methods, such as our high-quality Fotona SP Dynamis® laser, patients are seeing much better results using procedures that are safer, more comfortable, and faster than ever before. Sharma Skin & Hair Surgery offers laser hair removal for just about any area of the body including the face, underarms, neck, back, shoulders, legs, bikini line, and many others. Edmonton residents should reach out to Sharma Skin & Hair Surgery to learn just how easy laser hair removal has become.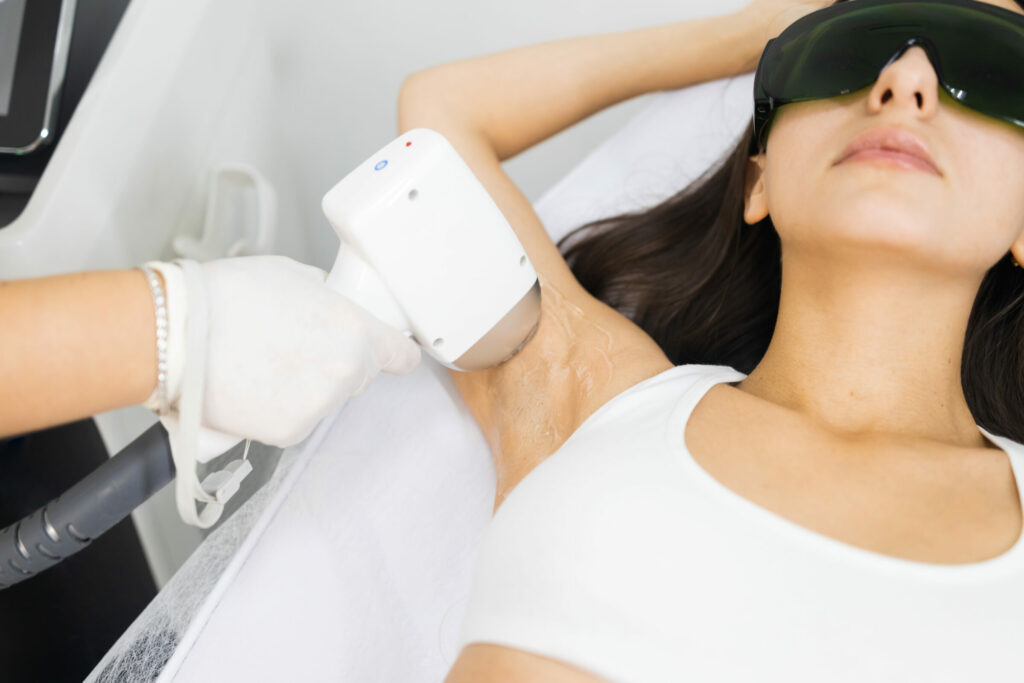 Benefits of laser Hair removal
Why Select Sharma Skin & Hair Surgery?
Sharma Skin & Hair Surgery, under the keen eye of Dr. Anil Sharma, offers a state of the art facility and a world class team that is dedicated to handling all types of cosmetic treatments including laser hair removal. When you step foot into our Edmonton laser hair removal clinic, you'll feel confident in the treatments we provide.
Cutting-Edge Facility
Our team practices in a stunning, cutting edge Edmonton skin and hair surgery facility to ensure your needs are always taken care of.
Our Clients Recommend Us
Most of our business comes directly from referrals, which shows the high level of service we provide to our existing client base.
Licensed Doctor
Dr. Sharma is licensed to practice in the province of Alberta and is an active member of the Canadian Medical Association.
Variety of Service
We offer a wide variety of cosmetic surgeries in addition to laser hair removal such as non-surgical facelifts, dermal fillers, acne treatments, vaginal rejuvenation, hair loss treatments, hair transplants, and much more.

How do I Know if I'm a Good Fit for Laser Hair Removal?
The first thing you should do before investing in a cosmetic procedure such as laser hair removal is to book a consultation with Dr. Sharma. During your consultation, we'll ask you a series of questions about your medical history and analyze your current hair growth situation to determine whether or not you are a candidate for a laser hair removal procedure. The following are things to consider when determining a patient's eligibility for a laser hair removal procedure:
How Serious is the Recovery Process After Laser Hair Removal?
For a day or two immediately after the procedure, your skin may feel like it has been sunburned. Using cool compresses and skin moisturizers may help sooth your skin during recovery. If your face was treated, you should be able to wear makeup the next day, unless your skin is blistering.
Get more information
Knowledge Centre
Currently no posts on this topic, but please visit our knowledge centre for information on other similar topics.
Laser Hair Removal FAQ
We've compiled a list of some of the most common questions asked during our initial consultation
A concentrated laser is aimed at hair, damaging the follicle, thereby inhibiting its growth. Because the results can vary greatly, lasers can inhibit hair growth ranging from several months to multiple years.
Patients who have had the procedure liken the pain to something between a gentle pinch and the snap of a rubber band.
Not necessarily. Laser hair removal is most effective if the hair is caught in the growth stage, which can be difficult to determine since it grows in indeterminate cycles.
It's common for your skin to breakout after a treatment because the laser treatment leaves the hair follicles open for several days. A simple antibacterial lotion or over the counter hydrocortisone cream can help with these temporary blemishes.
Discontinue use of any medications like Retin-A, Renova, and/or other AHAs that can make skin fragile and sensitive to laser hair removal. After the procedure has been completed, be sure to avoid saltwater, chlorine, and the sun for about a week to prevent burning and irritation.
Book now
Talk to a Laser Hair Removal Expert in Edmonton, Alberta
If you are considering options for laser hair removal, our experienced team is just a phone call away. We provide laser hair removal for Edmonton residents, as well as those choosing our Edmonton clinic as their laser hair removal destination.