What is Bellafill®?
Due its unique patented microspheres, Bellafill® is not absorbed into the body. A longer lasting and natural method of reducing wrinkles, Bellafill® is scientifically proven to last five years, and in some patients as long as nine years. Bellafill® uses a natural method of correcting wrinkles, frown lines, and laugh lines through stimulating the body to regenerate its own collagen. Bellafill® is extremely safe and has been well tested all over the world. The result of a five-year dermal filler study, the largest and most expansive of its kind, has lead to the approval of Health Canada, and the FDA.
In fact, Bellafill® is the only FDA and Health Canada approved "permanent" filler.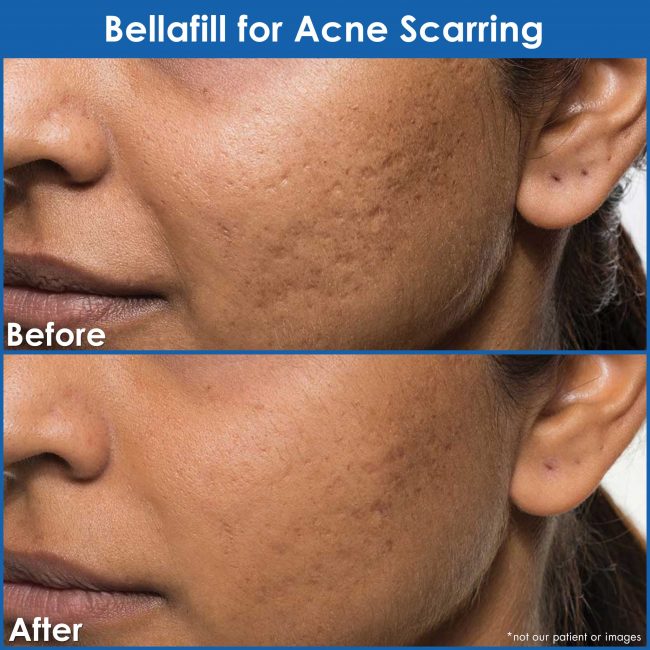 Benefits of Bellafill®
Results That Last
The financial advantages of Bellafill® continue to be a main attraction for both men and women looking for long lasting and natural ways to corral the aging process. Prompt correction is visible after the first treatment, and results continue well past five years following just one treatment. In one of the largest ever cosmetic dermatology studies, Bellafill® safely reduced smile lines for five years. In Dr. Sharma's personal opinion, Bellafill® is one of the only true anti-aging prevention treatments around, offering a brand new degree of filler rejuvenation.
Own Your Look
In essence, patients get to "own" their new youthful looks rather than renting them as with temporary dermal fillers. While Bellafill's® effect doesn't last forever due to the natural aging process, it does last significantly longer than other dermal fillers. As a result, if the results are not to your liking, they are hard to correct. All the more reason to seek out a skin care practitioner who has tremendous experience using Bellafill®.
Your Expert Doctor
Dr. Sharma is committed to offering the best Bellafill® procedures in Edmonton. A trainer for Suneva, the manufacturer of Bellafill®, he shares his expertise with other surgeons, dermatologists, and physicians throughout Europe and North America. His personalized Bellafill® consultation will address your specific needs and answer any questions or concerns you may have about the treatment.
How does Bellafill® Work?
As we age, our skin loses its elasticity. Most products use temporary dermal filler to remove the wrinkles, but Bellafill® restores the skin using a well-researched formula of 80% purified collagen and 20% PMMA (polymethylmethacrylate) microspheres. Roughly half the diameter of a human hair and nearly undetectable to the eye, PMMA microspheres support your body's own collagen production. As a result, Bellafill® not only adds volume almost instantly, but helps your skin produce a firmer structure. You will be left looking younger, more beautiful, and more confident.
Can Bellafill® treat acne scars?
Acne scars can be difficult to treat. This is because chronic inflammation destroys the normal skin tissue, leaving pits and scars behind, causing skin asymmetry. Both women and men can be self-conscious about these scars. Acne scars can be difficult to cover up with makeup as the pits become even more visible under a foundation base.
Bellafill® is the only FDA-approved dermal filler for use on acne scars. It adds volume to the skin, smoothing pitted acne scars and lifting them to the level of the surrounding skin.
Bellafill® can also be used for the décolletage, hands, buttock dimpling, knees and elbows.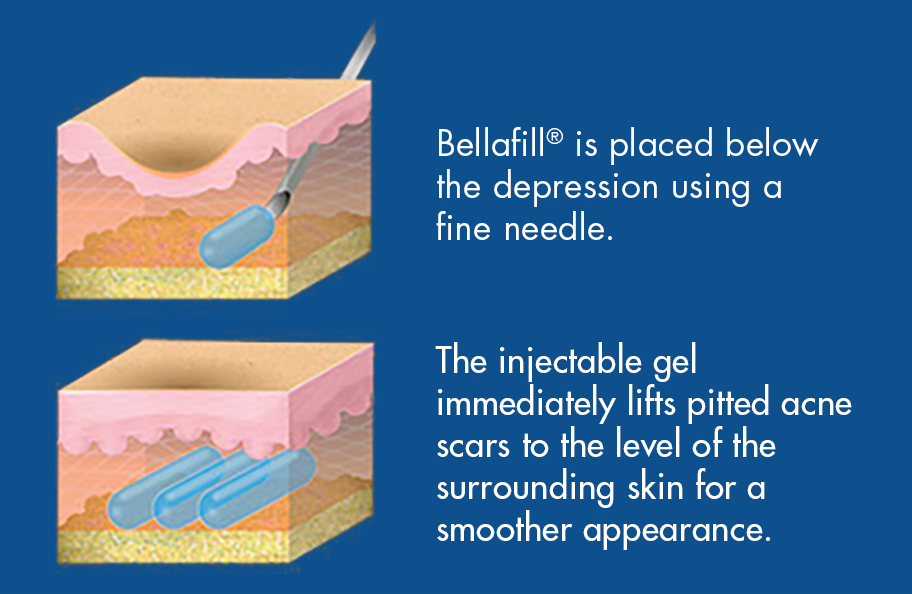 How is Bellafill® injected?
Bellafill® is similar to other injectable fillers in that lidocaine is used to lessen the pain beforehand. If done by an experienced skin care practitioner like Dr. Sharma, you shouldn't feel anything after the procedure is performed. You should, however, see instant results. You can usually return to your regular routine quickly after the treatment. You'll normally have a follow-up meeting after the treatment where you can discuss further treatments or decide to leave it as is.
Can Bellafill® address my wrinkle type?
Over time, we lose volume in our faces, and folds and wrinkles may appear. Bellafill® can help slow down the natural aging process by treating wrinkles brought on by loss of volume and as a result of gravity. It replaces lost volume in the skin below the wrinkle or fold, in part by helping the body regrow tissue lost through aging. Upon insertion, the collagen instantly adds volume to smooth away facial wrinkles referred to as smile lines. As time goes on, the PMMA microspheres help your skin recreate a stronger construction naturally, resulting in beautiful, younger looking skin.
Get more information
Knowledge Centre
Fat grafting vs. dermal fillers: what works best to restore facial volume?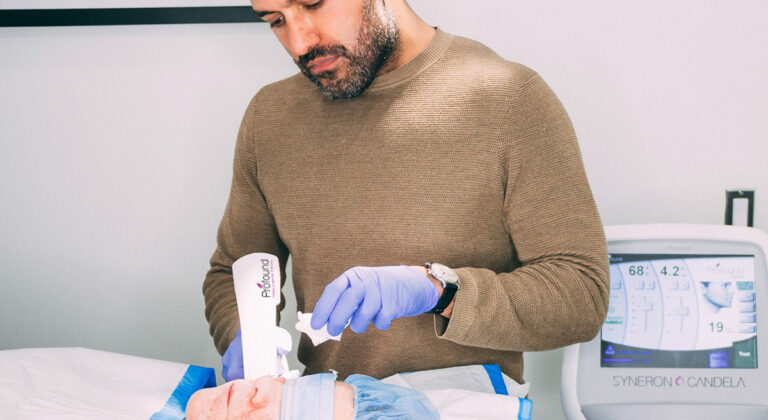 Nothing contributes to a youthful appearance the way a radiant, healthy face does. Loss of facial volume, elasticity, and moisture creates a tired, aged look….
Read article on Fat grafting vs. dermal fillers: what works best to restore facial volume?
Bellafill® FAQ
We've compiled a list of some of the most common questions asked during our initial consultation
Bellafill® should not be administered to patients who are allergic to bovine products or lidocaine. To be safe, Dr. Sharma will always invite patients for a skin patch test before treatment to avoid any issues with allergies.
After a Bellafill® injection, you may feel pain, discomfort or bruising. This tends to resolve itself within about a week. Other possible side effects are less common; redness, swelling, sensitivity, rash or itching. If you feel a lump or any unusual skin reaction, contact Dr. Sharma directly. He will be able to treat the problem swiftly and efficiently.
Book now
Talk to a Bellafill® Expert in Edmonton, Alberta
If you are considering options for Bellafill®, our experienced team is just a phone call away. We provide Bellafill® for Edmonton residents, as well as those choosing our Edmonton clinic as their Bellafill® destination.