No two hair transplants are the same​
Each hair loss case is unique. Understanding the expectations and goals of our patients allows us to give a realistic idea of your hair restoration possibilities. Using either the F.U.E. or F.U.T. technique gives us the flexibility to give you the best treatment possible for your Edmonton hair transplant.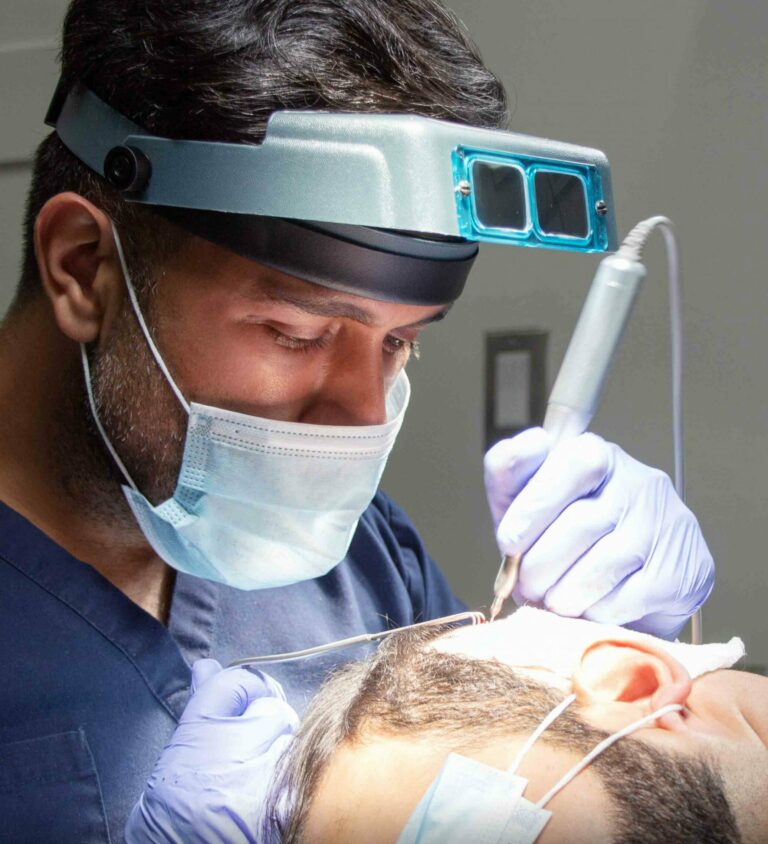 Hair Transplant Consultations
Part of what makes us a leader in the Hair Loss space is our intensive screening process of Hair Transplant candidates. We strive to achieve the best possible result with each patient.
Personalized Plan
During the consultation Dr. Sharma will ask about your hair loss history. This will allow him to determine how effective the hair transplant procedure may be for you.
No two hair transplants are the same. A consultation with Dr. Sharma ensures that he is able to follow your natural hairline and enhance its density.
After assessing your goals Dr. Sharma will be able to determine where your new hair line will sit post-procedure.
Medications
There are multiple medications that you should consider before and after your Hair Transplant that can assist with the success rate of the transplanted grafts while also assisting to keep your current hair strong.
During your consultation, Dr. Sharma will discuss these medications with you in detail to help you select the best option. He will also be able to discuss the risks associated with any new medication.
At the end of your consultation Dr. Sharma can write you a prescription which you are able to conveniently fill at the pharmacy next door.
Read more about common Hair Restoration Medications here.
Eligibility
One of the integral factors for any hair transplant is ensuring the Donor site is strong enough to excise hairs from.
Certain medical conditions such as uncontrolled high blood pressure, blood-clotting or excessive scarring should be brought up during your consultation.
We will examine the strength and thickness of your hair to assure the follicles will be able to successfully transfer to the front or top of the head
Consultation Fee
A consultation fee ($150) allows us to hold your appointment with confidence while ensuring that Dr. Sharma only consults with patients who are ready to combat their hair loss. Dr. Sharma insists on meeting each patient personally to create a customized hair restoration plan.
With over 10 years of experience in the industry, Dr. Sharma's expert eye allows him to outline a realistic idea of what your future hairline could look like.
After performing hundreds of Hair Transplant surgeries he can determine the best route to get you started on your hair restoration journey.
Customized Quote
Once we have assessed how many grafts you will require for your hair restoration goals we can create a detailed quote. This quote gives you a breakdown of the cost of your surgery with multiple options to meet your goals.
The invoice will include our discount that comes with large procedures and the deduction of your consultation fee. We will also be able to go over financing options.
Book now
Talk to a Hair Transplant Expert in Edmonton, Alberta
If you are considering options for hair restoration, our experienced team is just a phone call away. We provide hair transplants for Edmonton residents, as well as those choosing our Edmonton clinic as their hair transplant surgery destination.